The Body Shop Drops Of Light Pure Clarifying Foam Wash - 125ml
The Body Shop Drops Of Light Pure Clarifying Foam Wash - 125ml
Tk. 1470
Overview
Vitamin C Foam Cleansing is a rich anti-inflammatory and especially for soothing signs of irritation including redness, it contains vitamin C to cleanse and clarify your complexion every morning and night with this rich creamy foam wash. This amazing Remo
Description
Highlights
---
The Body Shop Drops Of Light Pure Clarifying Foam Wash - 125ml

Our Drops Of Light Pure Clarifying Foam Wash leaves complexions clean, calming, brighten and providing moisture for your skin. This moisturizing cleansing foam is a rich source of antioxidants and other ingredients help to moisturize the skin that product provides daily cleansing of the skin as it purifies skin; removes dirt, makeup residue and other impurities. Pure Clarifying Foam Wash contains with red algae and vitamin C for all kind of skin to keep the skin soft and moist.
Features
Eliminates dirt, oil and other impurities from make-up residue
Deeply cleanses, brighten and moisturizes the skin
Balance sebum production
Washing Foam with vitamin C and red algae
Helps maintain the skin's natural moisture balance
Reduce pre-mature sign of ageing
Suitable for all skin type
The Body Shop Drops Of Light Pure Clarifying Foam Wash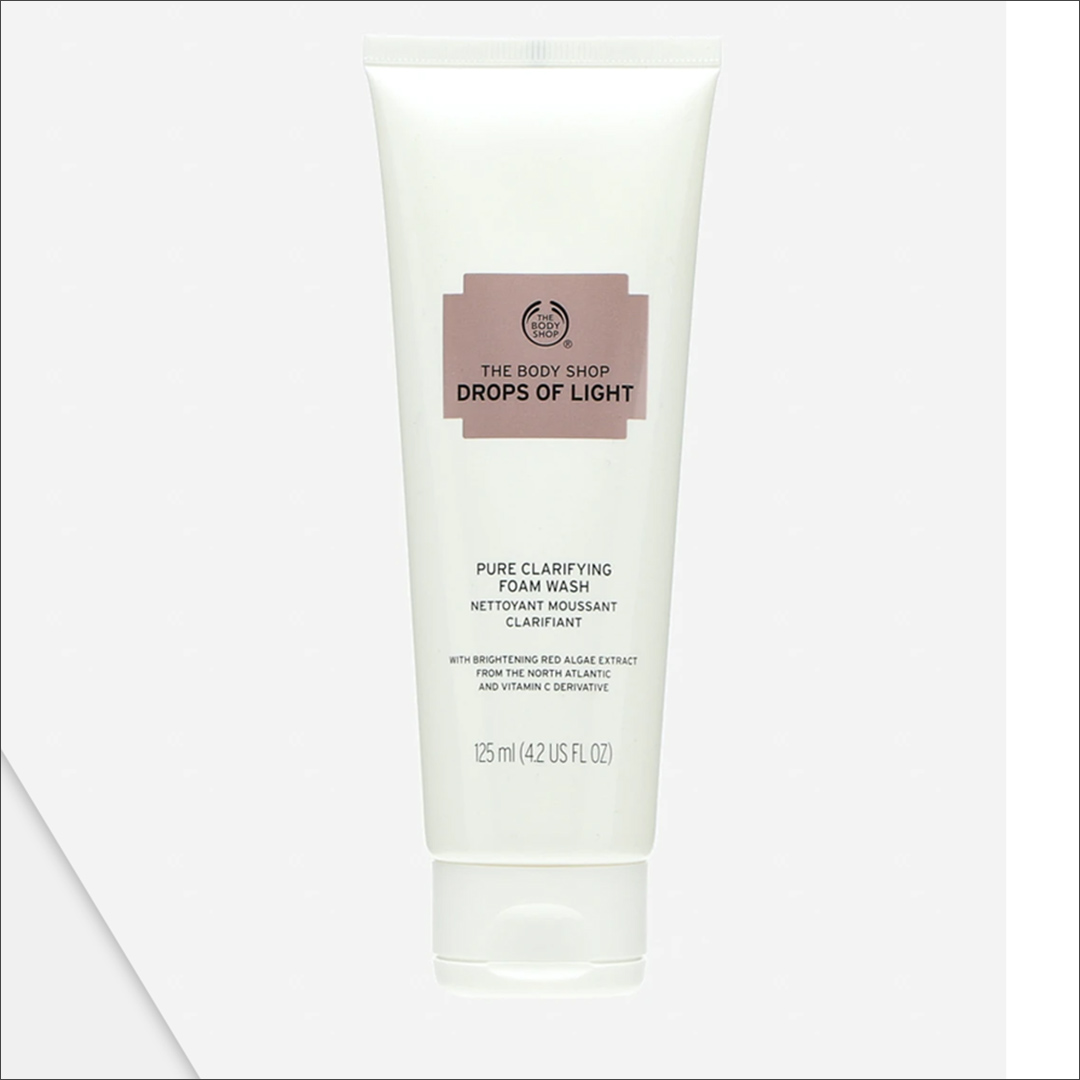 Vitamin C Foam Cleansing is a rich anti-inflammatory and especially for soothing signs of irritation including redness, it contains vitamin C to cleanse and clarify your complexion every morning and night with this rich creamy foam wash. This amazing Removes the waste from the pores without irritation, maintaining a smooth, glowing, even and damage-repairing. As it melts away dirt and other impurities, this cleansing foam tones and soothes as well.
Enriched with red algae and vitamin C to help skin appear brighter and more luminous. It has antioxidant protection and moisturizing properties that deeply moisturizes the skin without leaving it greasy, actively cleanse the skin, eliminating and preventing the appearance of blackheads without over-drying or stripping the skin of precious moisture.
The foam deeply cleanses skin and helps to remove dirt and make-up, no color or alcohol. Formulated without preservatives. It moisturizes dry skin, soothes irritated skin, control sebum production and shrinks pores on oily skin, and nourishes devitalized skin. It can also help treat burns, acne and dry skin.
How To Use
Step - 1
At first wet your face with plenty of warm water or can splash water or moisten a towel and use that to wet your skin.
Step - 2
Use a dime-sized amount of washing foam. Apply it to your face in a circular motion, making sure each spot gets covered. Keep massaging in a circular motion for few seconds.
Step - 3
Rinse off with warm water and use a soft towel to pat your face dry.
INGREDIENTS
Aqua, Myristic Acid, Glycerin, Stearic Acid, Lauric Acid, Potassium Cocoyl Glycinate, Potassium Hydroxide, Glycol Distearate, Butylene Glycol, Acrylates Copolymer, Sodium Cocoamphoacetate, Phenoxyethanol, Caprylyl Glycol, Polyquaternium-39, Fragrance, Sodium Chloride, Sclerocarya Birrea Seed Oil, Tetrasodium EDTA, Linalool, Sodium Benzoate, 3-O-Ethyl Ascorbic Acid, Palmaria Palmata Extract

Reviews
Ratings and Reviews
---
Add your review