Romantic Bird 24 Color Palette Eyeshadow
Tk. 995
Overview
Waterproof and durable: High quality ingredients, silky luster color, can last for hours. The 24 colors eye shadow palette features with shimmer, matte, and flash effects. Skin-friendly natural: Unique design, multi-color matching, easy to apply, easy t
Description
Highlights
---
Romantic Bird 24 Color Palette Eyeshadow
Details
Waterproof and durable: High quality ingredients, silky luster color, can last for hours.
The 24 colors eye shadow palette features with shimmer, matte, and flash effects.
Skin-friendly natural: Unique design, multi-color matching, easy to apply, easy to interpret three-dimensional, layered eye makeup.
Healthy and safe ingredients and quality. Can be used on the upper lip, face, legs and body.
Suitable for professional smoky eye makeup, wedding makeup, party makeup or casual makeup.
Parameter:
Product Name: Eyeshadow tray
Package Contents: Eyeshadow Palette (24 colors)
Features: shimmer, matte, flash
Advantages: high quality, easy to make, lasting, natural, waterproof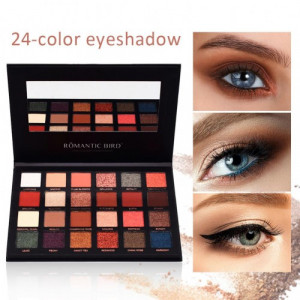 আমাদের পণ্যগুলো যুক্তরাষ্ট্র, যুক্তরাজ্য, দুবাই,চীন, সিঙ্গাপুর, মালয়েশিয়া, ভারত সহ বিভন্ন দেশ থেকে সরাসরি আমদানি করা হয়ে থাকে। তাই আমাদের পণ্যের গুণগত ম্যান সম্পর্কে একবারে নিশ্চিন্ত থাকুন।
Reviews
Ratings and Reviews
---
Add your review